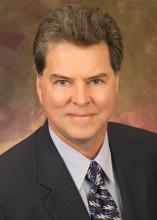 Dr. James F. Rooney joined Gilead Sciences in 1996 as Vice President of Clinical Research and in 2004 became Vice President of Medical Affairs.  From 2004 to 2006, he was also Vice President of Drug Safety and Public Health.  Dr. Rooney has been instrumental in the clinical development of the company's antiviral therapies, including treatments for HIV, hepatitis B and influenza.  Dr. Rooney also leads many of the company's clinical research activities in the developing world.
Prior to joining Gilead, Dr. Rooney worked as a global project leader in HIV at Burroughs Wellcome and Glaxo Wellcome.  Dr. Rooney received his undergraduate degree at Harvard University, in Cambridge, Massachusetts, his medical degree and residency training in Internal Medicine at the University of Maryland Hospital in Baltimore, Maryland, and his training in Infectious Diseases at the Laboratory of Clinical Investigation, National Institutes of Health, Bethesda, Maryland.  Dr. Rooney is board certified in Internal Medicine and Infectious Diseases and is a Fellow of the Infectious Diseases Society of America. 
Conflict of Interest: None disclosed.