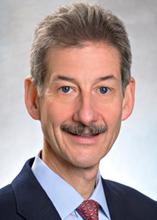 Daniel R. Kuritzkes, MD received his BS and MS degrees in Molecular Biophysics and Biochemistry from Yale University, and his MD from Harvard Medical School.  He completed his clinical and research training in internal medicine and infectious diseases at Massachusetts General Hospital and was a visiting scientist at the Whitehead Institute for Biomedical Research before joining the faculty at the University of Colorado Health Sciences Center.  Dr. Kuritzkes returned to Harvard Medical School in 2002, where he is now the Harriet Ryan Albee Professor of Medicine and Chief, Division of Infectious Diseases at Brigham and Women's Hospital.  
Dr. Kuritzkes has published extensively on antiretroviral therapy and drug resistance in HIV-1 infection.  He has chaired several multicenter studies of HIV therapy and previously chaired the AIDS Clinical Trials Group.  He has served on numerous NIH committees, including as a member of the NIH Office of AIDS Research Advisory Council.  He is a former member of the Department of Health and Human Services panel on guidelines for antiretroviral therapy and a past Chair of the HIV Medicine Association Board of Directors.  He has been a member of several editorial boards, and serves as an Associate Editor of the Journal of Infectious Diseases.  His research interests focus on HIV therapeutics, antiretroviral drug resistance, HIV eradication and more recently, COVID-19.  
Conflict of Interest: Receives consulting fees from AbbVie, Atea, Decoy, Gilead, GlaxoSmithKline, Janssen, Merck, Moderna, Novartis, Pfizer, Shinogi, ViiV, ViroStatics, and research funding from Gilead, Merck, Viiv.