Marc Baum, Senior Faculty of Organometallic & Environmental
Chemistry at Oak Crest Institute of Science
Speaker: Tenofovir implants and local toxicity: what have we learned to date?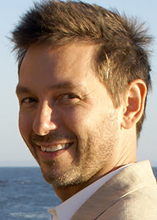 Shared findings from preclinical studies and perspectives on this debated topic. 
Oak Crest and Northwestern University (NWU) have each developed a tenofovir alafenamide (TAF) implant – both are reservoir devices filled with tablets containing the active pharmaceutical ingredient (API), but have different designs, are made of different materials and have conflicting local tissue safety.
TAF is a highly potent pro-drug of tenofovir (TFV) and one of few candidates with enough potency to be formulated and delivered via subdermal (SD) implant. 
Oak Crest vs NWU TAF implant.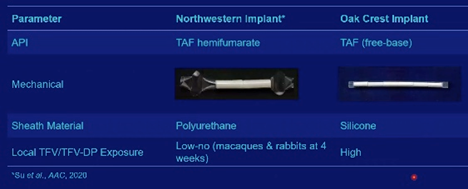 Preclinical Studies of the Oak Crest implant in dogs, mice and sheep suggest that the target human dose (TAF release rate of 0.25mg/day per implant) should only lead to a minimal foreign body response (mild inflammation and capsule formation).
TAF release rate < 1mg/day led to very mild inflammation associated with a foreign body response in dogs (TAF release rates ranged from <1mg/day to >7mg/day over 14 days or 30 days); significant inflammation was observed at release rates above 1mg/day and worsened at release rates above 1.5mg/day. 
Only observed the expected foreign body response across a range of release rates over relatively short durations in mice and sheep (up to 0.6mg/day for 28 days in mice; up to 0.3mg/day for 14 days in sheep). 
Placebo-controlled studies of the NWU implant in macaques suggest concerning local toxicity, possibly due to a drug effect. 
Each animal served as its own control (active and placebo implants were placed contralaterally).
Active implant with TAF release rate of 0.13mg/day led to unacceptable inflammation and severe necrosis in some cases (local effect assessed at 30 days [n=2] or 90 days [n=4]). 
No local toxicity observed around placebo implants.
Differing TFV and TFV-DP exposure in tissue surrounding the Oak Crest and active NWU implants suggests that contrasting local toxicity may involve more than a simple drug effect. 
Compared local tissue concentrations of TFV and TFV-DP from existing pre-clinical datasets in mice and sheep (Oak Crest implant) and rabbits and macaques (active NWU implant). 
Oak Crest implant led to high TFV and TFV-DP exposure at the implant site (TFV-DP exposure was ~100-fold lower than TFV in both animal models). 
Active NWU implant led to: 1) low to no TFV and TFV-DP exposure at the implant site in rabbits at 4 weeks and macaques, and 2) a wide distribution of TFV exposure that spanned Oak Crest values with no TFV-DP exposure in rabbits at 12 weeks. 
What else could be at the implant site and cause a local reaction in the case of the active NWU implant?
Different API formulation, different device shape, different device material.
Oak Crest MALDI mass spectrometry studies show that all intermediate compounds produced during TAF metabolism (metabolite Y, metabolite X, TFV, TFV-MP and TFV-DP) are seen in tissue sections collected at the implant site and their distribution around the implant varies. 
Next Steps 
Continue to investigate why some research groups are seeing TAF implant toxicity and others are seeing much less.
Proceed with Phase 1/2 clinical trials to assess the safety, acceptability and PK of the Oak Crest sustained-release TAF SD implant for HIV prevention in women (CAPRISA 018) 

Phase 1 component ongoing (dose and duration escalation among low-risk women in South Africa) – most women have had implant for 6 months; 3 safety reviews completed; DSMB recommends continuation of trial.
Phase 2 component planned to assess extended safety, tolerability and acceptability (randomized 1:1 TAF SD implant + oral placebo vs placebo implant + oral TDF-FTC) 
"TAF still has a lot of potential, especially as the list of potent ARV drugs that are useful for implants is dwindling – we really do need to give TAF the full benefit of scientific investigation"