LEAP Systematic Review of Long-acting
Formulation use in Pediatrics and Pregnancy
Speaker: Lynn Bertagnoli, Fellow in the Division of Clinical Pharmacology at Johns Hopkins University School of Medicine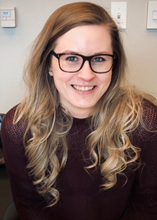 Provided an overview of findings from existing studies of LA formulations in infants, children, adolescents, youth and pregnant and post-partum women.
 
Reasons for conducting this review. 
LA/ER drug strategies improve outcomes of treatment and prevention in various medical conditions (e.g. hormonal contraception, osteoporosis, chronic schizophrenia, HIV, and pain control). 

Chronic schizophrenia – lower relapse rate observed with LA compared to oral risperidone.
Demand for LA/ER contraception – among 5086 women, 70% of young participants chose a LA reversable contraception method over another formulation.
Acceptability of LA HIV products – 61% of patients with HIV were likely or very likely to choose a LA formulation when available. 

Theoretical benefit of LA strategies.

Adherence to lifelong, daily oral medication is a struggle for many with chronic diseases.  
Stigma with certain diseases (such as HIV) – patients may not want people to know they take pills daily.
Periods of transition – LA strategies can play a crucial role during specific points of vulnerability (infancy, childhood, adolescence, youth up to 24 y, pregnancy and postpartum as well as periods of injection drug use or incarceration).  

LA strategies for HIV and TB prevention have a high potential benefit among infants and children.  

There is a need to study and approve LA formulations to prevent HIV transmission during birth and the postpartum period when many infants and women fall out of care –over 90% of children with HIV in developing countries were infected thru maternal to child transmission (during pregnancy, birth or breastfeeding).
LA formulations could play a crucial role in tuberculosis prevention – 32,000 children develop drug-resistant TB each year, and only 23% of child household contacts aged <5 years received TB preventive therapy in 2017.
This systematic review investigated existing data (up to 2018) on the safety and efficacy of LA/ER formulations in special populations with particular interest in clinical trials of LA IM injectable or implant formulations. 
Definitions: LA/ER (once monthly or less frequent), infants (birth-1 year), adolescents (10-19y) and youth (15-24y).
Exclusion criteria: vaccines, insulin or anesthesia/analgesia (these are not IM injections); studies with no specific focus in adolescents or children; non-english articles; articles without an abstract.
Overall,  27,227 unique abstracts identified, 2770 full articles were assessed for eligibility, and 97 studies were included in the analysis.
Most studies were conducted among infants, children or youth (infants and children, n=46; youth, n=40; mixed children and adolescents, n=5); 3 studies included pregnant women, and 3 studies included postpartum women (2 of 3 were in adolescents).
Overall, only five indications were studied – contraception (n=21) or other hormonal therapies (n=51); other (n=11); antibiotics (n=10) and anti-psychotics (n=4). 
Conclusions.
Demand and high potential benefit exists for LA/ER formulations among special populations, yet data from clinical trials remain scarce. 
This systematic review reveals a large research gap among pregnant and postpartum women (only 6 studies) as well as a lack of diversity among indications studied (contraception [22%] and other hormonal therapies [53%] comprised the majority).
There is an urgent need to reverse the neglect of LA therapeutics research in special populations.