DAIDS Preclinical Services Program to Accelerate Drug Development
Speaker: Keith W Crawford, Health Scientist Administrator at Division of AIDS,
National Institute of Allergy and Infectious Diseases, NIH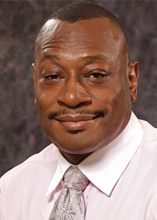 Provided a program overview with a focus on available services under Preclinical Pharmacology and Toxicology and Formulation Development and Manufacture of Clinical Dosage Forms.
The DAIDS Preclinical Services Program is a valuable resource for investigators developing next generation therapeutics for HIV and related co-infections – high priorities include longer acting ARVs, novel targets and inhibitors and novel immune-based therapies.
Provides preclinical support to advance promising therapeutic candidates towards clinical trials (fills critical product development and resource gaps in investigator programs). 
Investigators receive products, data and specialized expertise from NIAID contractors at no cost to the investigator (investigators do not receive NIAID funding).
Available services fall under 6 technical task areas spanning product development from initial drug discovery and lead optimization to preclinical development, including IND-directed studies and activities required for regulatory submissions and clinical trials.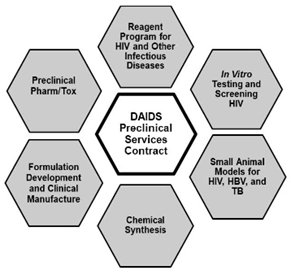 Example task area 1: Formulation Development and Clinical Manufacture – available services (all studies conducted in compliance with cGMP).
Develop new formulations to enhance product solubility or bioavailability 
Develop alternative dosage forms (different strength or route of administration).
Develop and validate analytical assays to determine identity, strength, quality, purity, stability, and drug release methods.
Develop manufacturing processes and procedures.
Prepare reports to be included in the Chemistry, Manufacturing and Controls (CMC) section of regulatory submissions.
Example task area 2: Preclinical Pharmacology and toxicology – available services are directed towards meeting requirements to be included in the IND submission (all studies conducted in compliance with cGLP).
IND-enabling studies – characterize in-vitro properties (ADMET, protein binding, bioavailability and bioequivalence, potential drug interactions); pharmacology in animals, toxicology (acute, repeated dose and chronic toxicity), safety analyses in different organ systems. 
Develop bioanalytical methods and perform bioanalytical studies.
Prepare all required study reports for the IND package. 
How to access services (www.niaid.nih.gov/research/daids-services-program-accelerate-drug-develo...).
Submit a written request for services (specific needs, data package to support the request and overall product development plan)
Requests evaluated internally with a team of expert scientists according to the following criteria: 1) matches NIAID priorities; 2) soundness of development plan; 3) investigator commitment (preliminary data, concurrent studies, communications with FDA); 4) ability of NIAID contract resources to fulfill requested services; and 5) availability of funds. 
If approved, NIAID point of contact issues a Material Evaluation Agreement (MEA) and coordinates transfer of products and data between investigator and NIAID contractor. 
Resources and services listed on NIAID website with contacts.
Past projects by task area.
Clinical Dosage Forms Manufacture – novel formulation, delivery system or route of administration of an approved product that alters the PK.

Repackaged nevirapine tablets into blister packs with a 48-month stability study.
Manufactured methotrexate capsules and placebo with a 60-month stability study. 
Process development and GMP manufacture of a proprietary lipid-based product (manufactured a lipid nanoformulation).

Preclinical Pharmacology and Toxicology. 

Pharm/tox studies of proprietary ARV nanoformulation for IND filing. 
Safety and pharmacology studies (GLP and non-GLP) of novel formulations of existing drugs (injection, oral, and inhaled delivery in rats and dogs).
6-month tox/TK study of sutezolid for mycobacterial infection. 
Repeat toxicity and TK studies of a novel ARV formulation in mice.
Reproductive tox studies of a clinical stage ARV in rats (GLP, segment I/II).
In-vitro mitochondrial tox studies.