Update from LONGEVITY" our Unitaid-funded grant LONGEVITY
Speaker: Andrew Owen, Professor of Molecular and Clinical Pharmacology at University of Liverpool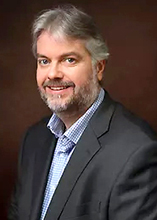 Focused on the progress in the Centre of Excellence in Long-acting Therapeutics (CELT) and the TB prevention and HCV cure programs under this Unitaid-funded grant.  
Challenges and opportunities related to LA medicines for malaria, tuberculosis (TB) and hepatitis C virus (HCV). 
Magnitude of the healthcare challenge – >400 million people are affected by malaria, TB and HCV worldwide with combined annual mortality > 2 million people. 
Health disparities exist across all three diseases – deploying affordable LA medicines in LMICs may equitably bridge healthcare gaps.
Patent-related challenges are envisioned for development, commercialization and access to LA medicines – LONGEVITY grant includes activities to alleviate challenges in this area.
Pricing of LA products – aim for price parity with existing treatments being deployed in LMICs.
Potential long-term impact of long-acting injectable (LAI) medicines and LONGEVITY.
LAIs almost universally result in lower doses relative to oral comparators – success is expected to decrease the net doses required for effectiveness.
Treatment failure is costly for society and is exacerbated by low adherence (all 3 diseases), which also influences the emergence of drug resistance – LAIs promise to improve treatment completion rates and decrease transmission.
Recently approved LAIs for HIV have been associated with reduced stigma in qualitative studies – a major advantage of LA approaches.
LONGEVITY aims to deliver interventions to tackle these challenges in LMICs – focused on malaria chemoprophylaxis interventions (not treatment); TB prevention (products to tackle latent TB infection); and HCV therapy (aiming to develop one-shot treatment).
LONGEVITY activities began with establishing CELT at the Univ of Liverpool – the project breaks down into 3 inputs (malaria, TB prevention and HCV cure).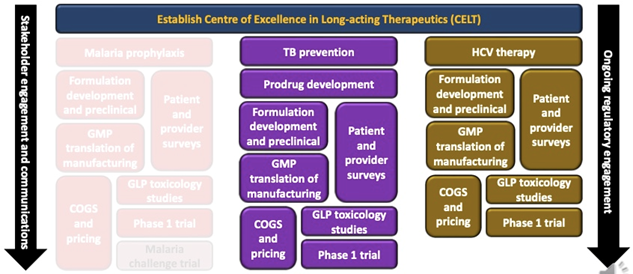 Overall, the TB and HCV programs mirror one another exception – the major difference is the inclusion of prodrug development in the TB program, which is focusing on isoniazid (led by JHU and CHAI). 
Assessment of patient and provider needs informs the development programs (series of surveys lead by UNMC and TAG) and is conducted in parallel with Formulation development and preclinical studies and GMP translation of manufacturing.
COGs and pricing activities (lead by CHAI) are conducted in parallel with safety studies that focus on excipients and depot toxicology and Phase 1 clinical trials to characterize PK in human populations. 
In parallel to all the development programs: CHAI leads an output focused on regulatory engagement; and stakeholder engagement and communications are led by CELT along with partners across the consortium.
Progress in research and development through year 2 – the pandemic presented huge challenges but significance progress has been made.
Malaria chemoprophylaxis program

– initiated research to define transmission of drug-resistant parasites; confirmed formulation compatibility for several target drugs; completed bioanalytical validation and PK model development for candidate drugs; preclinical proof of concept achieved for several target drugs in small animals; and completed CDMO engagement and GMP translation of atovaquone LAI initiated .

TB Prevention program

– INH prodrug synthesis initiated and early preclinical evaluation of a number of candidates.
Secured GMP drug donation for malaria (hetero) and TB (Sanofi) prevention programs.
Progress in supportive activities.
Established lab infrastructure

and web resources for CELT at University of Liverpool.

CELT website is fully operational

(www.liverpool.ac.uk/centre-of-excellence-for-long-acting-therapeutics/).  

Teoreler software will soon be available

via the CELT website (beta testing planned for Q2 2022) and will enable users to conduct basic PBPK modeling for themselves.
University of Nebraska Medical Center (UNMC) obtained IRB approval for interests and attitudes survey – initiation for malaria is imminent. 
Completed pre-IND with FDA for malaria LAI development program (CHAI/UofL/JHU).
Published advocacy literature relating to LA medicines (TAG/UNMC/UofL) – Illustrated glossary for LA technologies and a pipeline report for LA technologies for malaria and HCV (www.treatmentactiongroup.org/hcv/long-acting-technologies-resource-compendium/).
Contracted GLP toxicology consultant to initiate protocol development for malaria (CHAI/UofL).
Executed MPP license on LONGEVITY candidate LAI technologies (MPP/TNL/UofL).