Clinical and Public Health Needs
LA therapy is convenient and could prevent HBV reactivation stemming from poor adherence.
Current HBV therapies are effective, but adherence drops off with daily long-term therapies. Clinical scenarios for LA HBV treatment.
Clinical
Jordan Feld (University Health Network) reviewed clinical scenarios for LA HBV treatment.
During pregnancy for PMTCT.

Oral medications can be challenging during pregnancy; a one-time LA dose would be beneficial.

In the setting of immunosuppression.

HBV reactivation is a life-threatening complication of immunomodulatory therapies (i.e., cancer chemotherapy and biologics).
Avoiding daily HBV therapy where missed doses could have severe consequences would be helpful.

Rural/remote areas.

LAIs are particularly suited to high burden areas where care is intermittent or unavailable (i.e., SSA and many parts of Asia).
LAIs, even with current therapies, would be a significant benefit.
HBV cure.

Delivering a stable backbone without interruption is important to achieve cure with a purely antiviral approach (backbone of current NRTIs is likely).
If immunomodulatory therapies are added, need to ensure the safety of no interruptions.

Pediatrics.

Children are not always willing or able to take pills.

HIV-HBV co-infection.

Including HBV-active drugs in a LA HIV approach could control both conditions at the same time.

Other potential areas exist.
Public health considerations
An estimated 257 million people are living with chronic HBV worldwide – large market from a pharmaceutical perspective.
Most new cases occur in infants at birth (MTCT).
Birth dose HBV vaccination is a practical and effective PMTCT approach, but only 39% of infants born to HBV+ mothers received a birth dose vaccine in 2015.
This number may be hard to raise due to the number of children born in non-traditional settings.
Giving a LA agent during pregnancy could prevent some of these MTCT events – global health level.
Discussion Highlights
Chari Cohen from Hep B Foundation (represents patient/community voice).
Daily pills can be stigmatizing or empowering - depends on the individual.
Systemic access and discrimination are a concern for any non-curative treatment in RLS.Any treatment needs to lead to surface antigen negative status to be widely accepted – cannot get employment without seronegativity.
It will be a challenge to deliver LA medications during pregnancy (due to access to care)
U=U campaign for HBV could be powerful in addressing discrimination/stigma.
LA HBV in pregnancy: in RLS, home deliveries are really the issue limiting the current PMTCT strategy.
Many pregnant women attend at least one ANC visit (even if they deliver at home).
Could implement a system – confirm HBV viremia via POC test and administer a LAI in the same ANC visit (would need to establish safety and same benefit as birth dose vaccination).
As an add on, there is a need to train and license midwives to administer HBV birth dose vaccination at home deliveries.
Review of Existing LA HBV Efforts
TAF implants Marc Baum (Oak Crest Institute)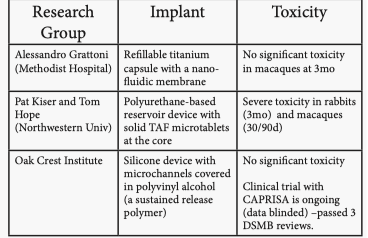 TAF is one of few drugs potent enough to theoretically enable drug delivery up to 6mo from an implant.
Overview of technologies being studied.
Toxicity of Northwestern implant is possibly due to a combination of factors – mechanical, polyurethane material, fumaric acid plus TAF and wound healing.
TFV ProTides – Benson Edagwa (UNMC)
Single IM injection of a novel TFV prodrug formulation (NM1TFV) suppresses HBV replication for up to 4mo in HBV-infected, humanized mice.

NM1TFV gets distribution in lymph nodes and hepatocytes without specific organ targeting.
Prodrug formulations are well-tolerated (preliminary toxicology and injection site examination).

Nanoformulated TAF (control) administered at the equivalent IM dose had a minimal effect on HBV replication.

Changing from oral to parenteral route of administration affects TAF biodistribution and delivery into the liver.
TFV prodrug bolus approach – Arnab Chatterjee (Calibr)
Finding the right form of TAF and the right way to deliver it is key.
Observed different release rates and differences in conversion to TFV-DP among oil-based vs aqueous suspensions of TAF – better results seen with free-base form compared to heavy fumarate.
IM bolus of TAF (aqueous suspension) in dogs sustained good drug levels in PBMCs (TFV and metabolites) over 80 days.

Good shelf stability for LMICs (potentially up to 6 months).
Bolus approach allows ISR to resolve vs continual release strategies – still have work to do with histopathology.
Discussion Highlights
Are treatment and prevention targets for intracellular TFV-DP the same for HIV and HBV?
PK targets for HBV treatment may be higher than HIV.

Small study of patients with HIV-HBV coinfection: TFV levels were consistent with four doses/week and suppressed HIV, but not HBV.
HBV is replicated exclusively in the liver. Without oral delivery, the advantage of first pass metabolism is eliminated –need to target the tissue.

There are no strategies for targeting the liver with parenteral therapy.

TFV ProTides have high drug levels in lymphocytes and liver tissue – enough to suppress HBV in mice, but do not specifically target the liver. Therapeutic concentration may have to do with the lipophilicity of the formulation.
Rodney Ho also has evidence that TFV is taken up in lymphocytes and liver.

Combining HIV prevention with a TFV product and HBV prevention in pregnancy would be useful.

Meg Doherty (WHO): There is great public use for this work. There are many places where birth dosing is not happening – LA TFV for HBV and LA PrEP would be a nice correlate. How long from this stage to human to reality?
Need to engage industry to accelerate development.
257 million people represents a huge potential market for a LA formulation – large enough to offset small profits on an individual basis.
This group can engage in consciousness raising with the pharmaceutical and biotech industry.
This is an ongoing discussion......