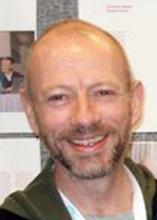 Simon Collins is an HIV positive treatment advocate at HIV i-Base, which he cofounded in April 2000. He works to encourage people living with HIV to take an active role in their own health. He was lucky enough to be able to use combination therapy in 1996 which he started with a CD4 count in single figures.
Since February 2003 he has edited HIV Treatment Bulletin and he also edits the series of i-Base non-technical treatment guides. He also co-ordinates the i-Base treatment information services including the phoneline and the website. Producing copyright-free treatment publications has helped enable information from these resources be translated into over 35 languages.
"HIV positive people should have the choice to be actively involved and represented at all levels of their care. Free access to the latest information should be available to everyone before they make treatment decisions about their healthcare."
He is involved in developing community involvement in clinical research and treatment guidelines. He has been on the writing committee for several BHIVA (UK) and EACS (European) guidelines. For two years, he co-co-chaired the European Community Advisory Board (ECAB) and he cofounded the UK-Community Advisory Board (UK-CAB) in 2002 which now has more than 700 members.
He is involved as a community representative on several current research studies.
Conflict of Interest: I have no real or apparent conflicts of interest to report.