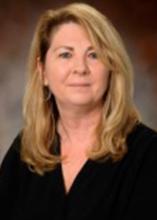 Daria Hazuda, PhD, trained as a biochemist at the State University of New York at Stony Brook, N.Y. After completing her postdoctoral research fellowship in the department of Immunology at Smith Kline, she joined the antiviral research group as a Senior Research Biochemist at Merck in 1989.
Daria has over 20 years of experience in drug discovery and development and more than one hundred-eighty publications focused primarily on antiviral research in the fields of HIV and HCV. Her laboratory was the first to identify inhibitors of HIV-1 integrase which block integration in HIV infected cells, establish their biochemical mechanism of action, demonstrate efficacyin vivo and report on mechanisms of resistance. She led the research effort that identified and developed the first-in class integrase inhibitor Isentress which was awarded the Prix Galien prize in 2008. She was recognized with the Bernie Field Lecture Award and the David Barry DART Achievement Award for pioneering the science on HIV integrase inhibitors.
Daria is on the editorial board of the American Chemical Society Journal on Anti-infectives Research and the Journal of Viral Eradication. She has served on the NIH Aids Research Advisory Committee (ARAC) and on the scientific advisory boards of and the Center for Aids Research (CFAR) of UCLA and the Gladstone Institute. She currently is a member of the NCI Basic Sciences Board of Scientific Counselors, the Scientific Program Advisory Council of the American Foundation for Aids Research (AMFAR) and The Forum for HCV Collaborative Research.
Daria is the Therapeutic Area Head of Infectious Disease and Vaccines Research at Merck Research Labs. Prior to assuming her current role, she was also the Global Director of Scientific Affairs for Antivirals at Merck in the division of Global Human Health where she was responsible for establishing the post marketing scientific leadership strategy for Isentress. Daria has also held the position of co-site head of basic research for the Merck West Point research facility which included the departments of Antiviral Research, Cancer Research, Molecular Endocrinology and Medicinal Chemistry.
Conflict of Interest: None disclosed.